Our Field of Membership shall be limited to those who have a common bond:
Persons who live, work, worship or attend school in

Fall River, MA
Somerset, MA
Swansea, MA
Westport, MA
Freetown/Assonet, MA
Tiverton, RI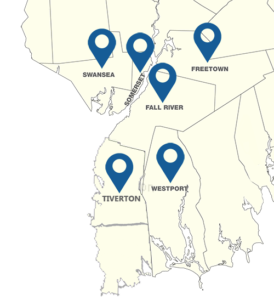 As always, we look to the future for ways that will make life easier and financially more enriching for our members.
To apply for a membership at Notre Dame Community Federal Credit union, 659 Eastern Avenue, Fall River, MA 02723, a share (savings) account must be opened with a minimum balance of $25.00 and the field of membership requirement must be met.
All procedures for opening new membership accounts will also be followed. To help the government fight the funding of terrorism and money laundering activities, we will require information and documents that identifies each person who applies for membership.
---
A Little About Us
Notre Dame Community Federal Credit Union was chartered in 1938 as Notre Dame Parish Federal Credit Union. The mission then was to serve the under served community of French Canadians who were hard working blue collar workers and who had no access to a banking institution for their deposit, borrowing, and general financial needs. This mission over the years has been broadened to serve the ever changing faces of our membership. In those early years, growth was slow due to limited hours and limited facilities.

In 1968, The credit union expanded its membership to include wards 5 and 6 of the City of Fall River. This was done under a program called Model City. As the credit union grew, so did the need for a larger facility. In 1971, the credit union moved to new quarters from Pleasant Street to its present location 659 Eastern Avenue. This move resolved the need for a larger facility for a period of time. In 1986, we purchased a residence to expand our building and add a drive in. This expansion was finished in 1989 with the present structure in place.

The credit union for many years used the trade name of Notre Dame Federal Credit Union, however, we expanded our field of membership to include all surrounding towns and adopted the name of Notre Dame Community Federal Credit Union.

---